HOME > Corporate information > Message from the president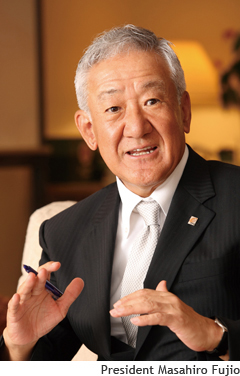 To be No.1 in the restaurant industry in the category of casual home-style dining
With About 700 restaurants in Japan and around the world, Fujio Food System is dedicated to providing dining experiences that make our customers happy.
Our flagship brand Maido Ookini Shokudo boasts the greatest number of locations and the highest sales in Japan in the dining hall (shokudo) category of restaurants.
We place great importance on an overall balance of restaurant atmosphere and service in order to provide our specialty – Japanese-style home cooking prepared with true kindness. In every business category, we put our all into everything we do with professionalism and a commitment to putting our customers first.
Proactive hiring of senior citizens is a part of our corporate vision and social contribution, and we are continuing to grow around the world, creating restaurants that provide memorable experiences and goodness for both body and soul.